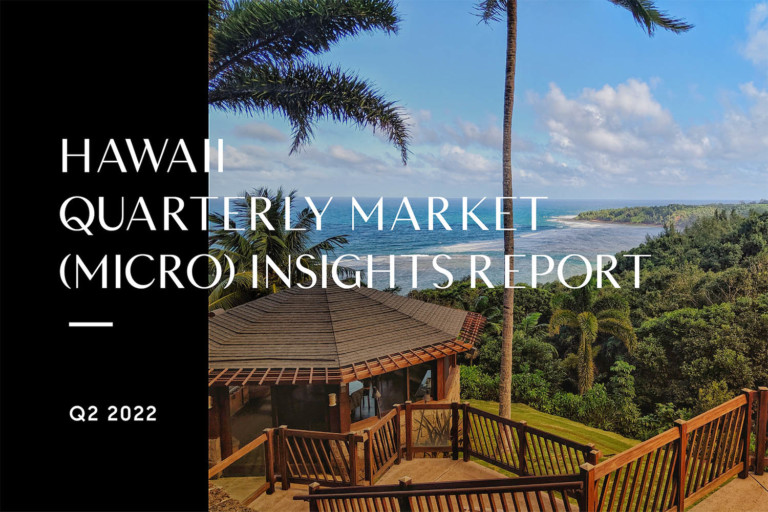 July 22, 2022
Hawaii Quarterly Market (Micro) Insights Report: Q2 2022
By
It is our pleasure to bring you the Compass Hawaii Q2 2022 Market Report for the Big Island, Oahu, Maui, and Kauai. The Hawaii market felt the mainland's economic slowdown in the second quarter. The influx of mainland buyers who made way above asking price offers sometimes sight unseen has declined. Despite that market fundamental, the median sales price on both single-family homes and condos increased significantly throughout the islands.
On Kauai's, North Shore Princeville saw the median sales price increase for single-family homes by 36 percent to just below $2 million. That price increase impacted single-family home sales activity in the second quarter as it fell 52 percent. The buyers that did purchase properties on Kauai moved fast—reducing days on market from 120 days to 58 days in the second quarter. On Maui, the median sales activity fell 25 percent compared to last year. While the median sales price there increased by 28 percent to $1.6 million. Condos were in favor in Lahaina with the median sales price increasing 24 percent to $900,000. On the Big Island, the median sales price increased 34 percent to $755, 222. Kona which has a strong condo vacation rental market saw the median sales price for condos increase 34 percent to $615,000. Oahu fared better in this second quarter compared to Maui, Kauai, and the Big Island. Condos in the Waikiki neighborhood saw the median sales price increase by 21 percent to an "affordable" $460,000.
Working with a Compass agent in Hawaii with deep local knowledge and a strong professional network makes the difference in the buying and selling experience around the islands.
The post
Hawaii Quarterly Market (Micro) Insights Report: Q2 2022
first appeared on
California Real Estate Blog
.
Want to learn more about Bay Area market trends?
Let's connect! With relationships and networks across the city, there are a variety of ways I can help you make informed real estate decisions. Call, email, or text – I'm here to help.
Contact