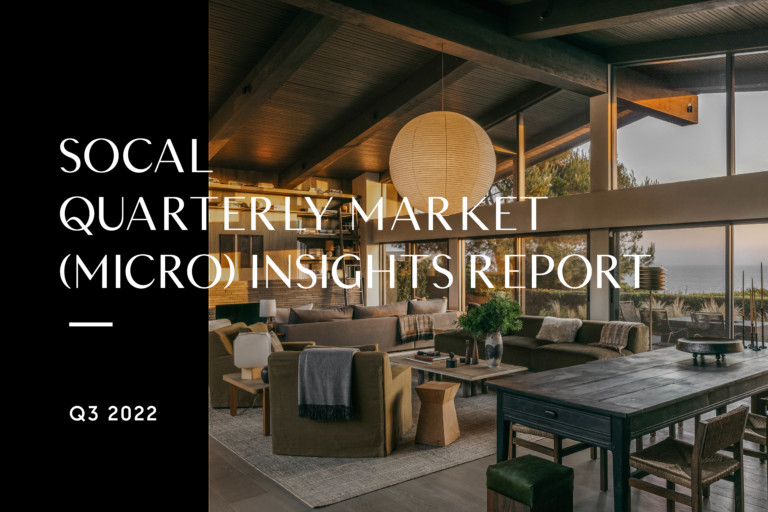 October 24, 2022
SoCal Quarterly Market (Micro) Insights Report: Q3 2022
By
It is our pleasure to bring you the Compass SoCal Q3 2022 Market Report. As the rest of the country did, the Southern California housing market underwent a shift in the third quarter with declines in home sales activity across the region. As interest rates continued to rise some buyers decided to revisit the price range, they could now afford given the current rates which in some markets eroded affordability. Despite the slowdown in home sales activity the median sales price for both single-family homes and condos across Southern California continued to rise in most areas in the third quarter. Buyers seemed to now favor condos versus single-family homes, no doubt as the prices for those single-family homes combined with rising interest rates put them out of reach for some. This is a reversal from the last several years when single-family homes were must-haves for many. At the time historically low-interest rates allowed buyers that option.
In Malibu condos, there were strong price increases with the median sales price for those condos rising 47 percent
from last year's third quarter to $1.2 million. In Beverly Hills, the median sales price for condos increased 26 percent to $1.7 million. Areas across Southern California where single-family home prices showed strong gains in the third quarter included Irvine in Orange County. There the median sales price for single-family homes reached $1.8 million, a 24 percent increase over last year's third quarter.
As we look to year-end it's likely economic challenges may be ahead, yet the fundamentals of Southern California's housing market remain strong. Look to Compass professionals to lead and guide buyers and sellers to make the right choices for their lifestyles.
The post
SoCal Quarterly Market (Micro) Insights Report: Q3 2022
first appeared on
California Real Estate Blog
.
Want to learn more about Bay Area market trends?
Let's connect! With relationships and networks across the city, there are a variety of ways I can help you make informed real estate decisions. Call, email, or text – I'm here to help.
Contact