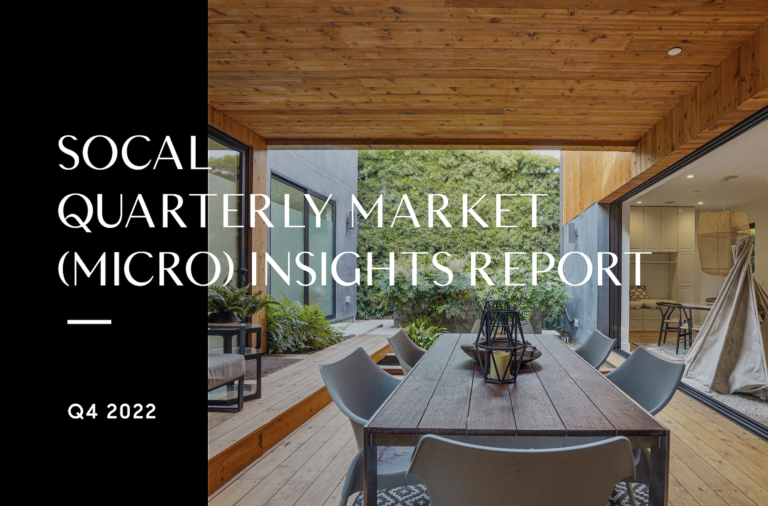 January 24, 2023
SoCal Quarterly Market (Micro) Insights Report: Q4 2022
By
Home sales activity declined across Southern California from the Central Coast to the South Bay. Buyers took a wait-and-see approach as the Fed continued to raise interest rates. Buyers recalculated and reevaluated where they could afford to buy and at what price point. The holidays are traditionally a slower period when sellers wait to list their homes and buyers take a break, impacting home sales activity more in this fourth quarter compared to last year's fourth quarter. Home sales activity on the Westside | South fell 44 percent. Home sales activity in the Desert and Mountain Areas fell 56 percent trending with the rest of the Southern California market. On the Central Coast home sales activity fell by 40 percent in 2022's fourth quarter.
Home prices were very much location-centric. In San Fernando Valley, the median sales price rose 27 percent to $1.3 million. In Westside / South the median sales price declined over 6 percent to $929,363. The South Bay also saw the median sales price decline 5 percent to $1.6 million. While up the coast to Ventura, the median sales price for single-family homes increased 32 percent to $1.2 million. The median sales prices for condos fared better than single-family homes in some areas. The median sales price for Pacific Palisades condos increased by 21 percent to $1.5 million. Condos in Irvine had a median sales price increase of 11 percent to just over $1 million.
The full report is available here: SoCal Q4 2022 Market (Micro) Insights Report
The post
SoCal Quarterly Market (Micro) Insights Report: Q4 2022
first appeared on
California Real Estate Blog
.
Want to learn more about Bay Area market trends?
Let's connect! With relationships and networks across the city, there are a variety of ways I can help you make informed real estate decisions. Call, email, or text – I'm here to help.
Contact